---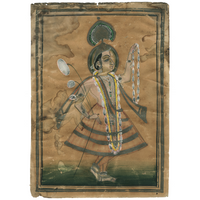 Yamuna 1 (Nathdwara)
Painting on paper
12.5 x 9" / 32 x 22.5 cms  
>
Part of the 
जल देवी (Water Goddess)

 

Curation as part of

 

The Monsoon Festival 16
> 
Yamuna, imaged in the very specific iconography that the Nathdwara school developed for portraying Yamuna ji, sacred to the Pushti-marg as part of the trinity of Shrinathji, Yamuna and Vallabh Mahaprabhu. Yamuna ji typically looks sideways, holding a garland towards Shrinathji (highlighting the aspect of using images as a backdrop / side panel, typical of the Pichvai tradition). She wears a long lotus garland, and holds lotus flowers in her other hand. Both the paintings featured here,
Yamuna 1

 
and 
Yamuna 2,
executed in the Bazaar style.  
>
Condition report: 
Owing to its historic nature, the work is in fragile condition and is torn, stained and damaged in several places, 
as is clearly visible in the image. 
(The work will be shipped without a frame, packed flat in board)  
>
Reproduction rights reserved. 
>
Kindly 
contact us
 for customised reproductions of this artwork.